Gift Baskets
Revive Mama Gift Basket
Celebrate and Revive the New Mama in your life. Or, Revive yourself you Badass Mama! Our unique gift basket features several organic, healthy products for Mama and Baby including a custom unisex onesie! This gift comes in a reusable sturdy wire framed fabric storage bin with a coated interior that can easily be wiped clean. Perfect for storing diapers and wipes or other nursery items. Size 12-1/4"L x 8-1/2"W x 5"H. Basket color may vary depending on availability but will always be the tree print shown. We specially picked this tree print as it represents the Tree of Life, popular in breastfeeding culture.
Contents of Gift Basket:
Go Away Monsters Natural Scented Lotion 2 oz

Go Away Monsters Natural Scented Mini Lotion Bars 0.75 oz

Nip Dip Organic Nipple Balm 1.2 oz *POPULAR ITEM

Revive Mama Coffee & Coconut Facial Scrub 2 oz

Revive Mama Death Mask Honey & Coconut Refreshing Facial Mask 2 oz

Revive Mama Vanilla Boo Boo Kisser Organic Lip Balm 0.25 oz

Custom Beautiful Carcass "#ReviveMama" Unisex Onesie Size 3 Months

Burp Cloth (colors/patterns will vary)

Book (baby/parenting themed) *when available; this item is free

Custom Revive Mama Bookmark

NOTE: The book is an add-on item we include for free. We cannot guarantee the same book shown in the photo. We will, however, include a book with a parenting and/or children's theme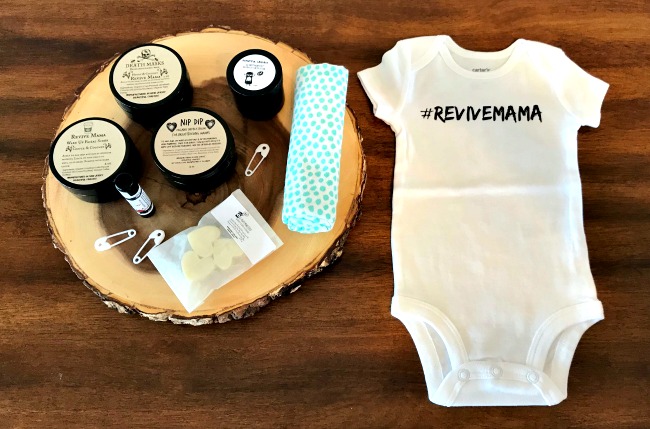 Additional Info
*Please see individual items on our Products page for specific ingredients pertaining to each item.
Main ingredients in this basket full of goodies, includes: Certified Organic Unrefined Cold-Pressed Coconut Oil (Cocos Nucifera), Organic Raw African Shea Butter (Butyrospermum Parkii), Raw Ivory Beeswax (Cera Alba), Organic Raw Honey, Organic Ground Coffee (Coffea)
**This basket does NOT include products with essential oils. We've kept it simple and natural scented based on the ingredients such as coconut, Shea, coffee, and honey. Essential oils should be monitored and used in moderation (and diluted) for use on babies and small children.
**Do you like our custom #REVIVEMAMA onesie? Check out our good friend Courtney's Etsy shop for more custom clothing, Oh Rexy Threads!